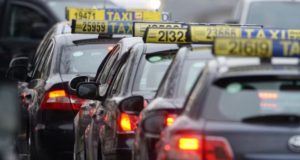 Do you need insurance for your taxi? Would you like us to make that job easier for you? Getting taxi insurance does not have to take ages. And it shouldn't be confusing or annoying. BrokerIT provides cheap and complete taxi insurance cover which drivers can trust. We will ensure that you have the best and cheapest insurance cover in place for any injuries to passengers/pedestrians, vehicle damage, damage to third party property etc.
Our Taxi Insurance Partner
We have used our many years of experience in the insurance market to choose the best providers of insurance policies for taxi drivers. Our insurance partner, Brian J Pierce, is the top taxi insurance broker since 1995. They provide our clients with the best service and value for money.
Compare Taxi Insurance Quotes
BrokerIT helps you to compare insurance quotes. We have taken the time to check out the Taxi insurance market to pick the companies which offer the best value for you.
Cheap Taxi Insurance
You want a good deal on taxi insurance but that does not mean you should have to get less cover. We have built BrokerIT so that you can easily find the insurance policy you need to give you peace of mind. And save some money at the same time.
Compare Taxi Insurance Quotes
The best thing about our service is that we can help you to compare insurance quotes. We can get quotes from many companies and weigh up the most important elements of your Taxi insurance options. That means that you can compare the costs against the benefits and pick the best deal for you. You get to pick the parts of the policy which you like and to change the policy to your exact needs. Just because you want a cheap insurance policy for your taxi does not mean you have to give up your peace of mind. Simply click on the link on this page to get a quick quote.